Russia: Try again on Syria talks, Assad might be willing to go
Claiming that Assad would leave office if Syrians voted him out, the Kremlin is pushing for new diplomatic efforts to resolve the conflict. But the US remains cool to Russia's overtures.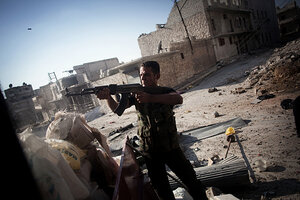 Manu Brabo/AP
Russia says it's time for another diplomatic effort to find peace in Syria – perhaps through an all-party conference in Moscow – because the rebels aren't winning by military means and Syrian leader Bashar al-Assad has assured Moscow that he would step aside if he were voted out.
"Bashar al-Assad has clearly stated that if the people did not want him, and if they elected another leader in a presidential election, he would go," Russian Deputy Foreign Minister Mikhail Bogdanov told the French newspaper Le Figaro Monday after holding meetings with Syrian opposition leaders in Paris.
"We have never said that keeping Assad in power was a prerequisite to any negotiations. But we also say that it is not the Russians or the French, to decide the fate of the Syrian president," Mr. Bogdanov added.
Bogdanov said it's time to revisit an agreement made in June by the big powers at a meeting in Geneva, which would create a transitional government involving both regime and opposition leaders, write a new constitution, and prepare for elections that would establish a new leadership for the country.
"There is a sense (in Moscow) that Russia is winning diplomatic terrain back," says Fyodor Lukyanov, editor of Russia in Global Affairs, a leading Moscow foreign policy journal.
---