How does Norway rehabilitate Anders Behring Breivik?
Norway has had extraordinary success with its prison rehabilitation program, with one of the world's lowest recidivism rates. But it's never had to deal with a criminal like Breivik before.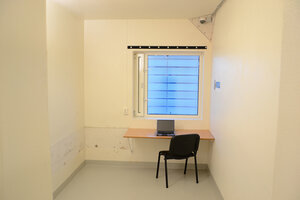 Ila Prison/Glefs AS/NTB scanpix/AP
Norway's attitude toward criminal offenders is to rehabilitate them back into society, rather than punish them. The tolerant Nordic country has one of the lowest recidivism rates in the world, 20 percent compared with about 50 percent in the United States.
But what do you do with a mass murderer like the 33-year-old Norwegian responsible for single-handedly killing 77 last year in the country's worst peacetime national tragedy?
That is the current dilemma facing Ila maximum security prison, the jail where Anders Behring Breivik has started serving his 21-year sentence for a car bomb attack on government headquarters in Oslo and a shooting spree at the Norwegian Labour Party summer youth camp on Utøya island.
The current feeling among victims, and conveyed in the judges' ruling last month, is that Mr. Breivik should remain locked up forever. But Norway does not have life sentences per se. His sentence allows for his term to be rolled over indefinitely in five-year intervals if there is a risk of reoffending. Still, the prison is required to rehabilitate him.
"We cannot say to someone, you are never going to be released, so you can't have access to this [rehabilitation] program," says Ellen Bjerke, special adviser at Ila prison.
Breivik will be returning soon to Ila from his temporary stay at Skien prison following some prison modifications. He comes back to his three-room high-security wing inside the barbed-wired fortress at Ila, which lies in the leafy idyllic suburb of Baerum just a half hour outside Oslo, past the exclusive rolling greens of Grini Golf Club and a Christmas cake factory.
---