Does Ivanishvili's win put Georgia back in Russia's orbit?
Though President Saakashvili tried to paint him as a Russian puppet before this week's election, experts say Ivanishvili's – and Georgia's – relationship with Russia remains complex.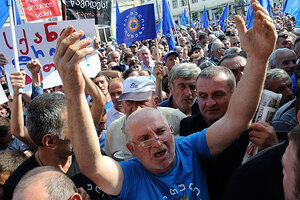 Irakli Gedenidze/Reuters
Tbilisi, Georgia, and Moscow
This week's political upset in Georgia, which was a major defeat for the Kremlin's long time nemesis President Mikheil Saakashvili and may soon see the Russia-friendly tycoon Bidzina Ivanishvili become prime minister in a more parliament-centered system, has many experts in both countries wondering whether the deep freeze in Moscow-Tbilisi relations that's prevailed since the 2008 Russo-Georgian war may finally begin to thaw?
The short answer, most say, is yes – but only in modest steps.
The two countries were joined within the Russian Empire and the Soviet Union for almost 200 years, and have many historic synergies that could be re-energized, but if Moscow is hoping to restore the old dependency relationship with Georgia it's certain to be disappointed. Following the 2003 "Rose Revolution," which tore Georgia from Russia's orbit and helped to trigger a series of pro-democracy revolts around the former USSR, Georgia consciously set out to integrate with the European Union and NATO. Those goals remain anathema to the Kremlin but Mr. Ivanishvili endorses them just as strongly as Mr. Saakashvili does.
---