How much is Romney backed in Britain?
Most of the British public and political class – including many Tories – prefer President Obama to his Republican challenger, but Mitt Romney is not without fans among the British government.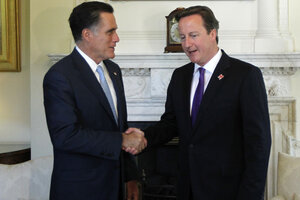 Charles Dharapak/AP
A visiting Mitt Romney stirred up a storm here last summer when he expressed concerns over Britain's readiness to host the Olympics – prompting a backlash that included a rebuke from Prime Minister David Cameron. So one would be excused for thinking that the Republican presidential candidate is without cheerleaders in the UK.
But they do exist.
They're fairly small in number in comparison with those getting behind President Obama, whose reelection is favored by more than 70 percent of Britons and whose admirers include not just the left but many in the Conservative Party itself.
The Romney camp in the UK include the expat Republicans who will be cheering just as loudly as those at home when they gather next Wednesday to watch the second presidential debate at the offices of a law firm in London's upmarket Saville Row. Others include Mr. Romney's recently uncovered "long lost" cousins in England's northwest, where his ancestors lived for generations and converted to Mormonism before leaving for the United States in 1841.
---