Who is Abu Qatada and why is Britain unable to deport him?
Britain released Islamist preacher Abu Qatada on bail Monday after a British court ruled he could not be extradited to Jordan.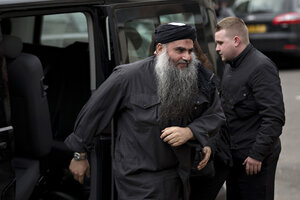 Matt Dunham/AP
Monday saw the release of Islamist preacher Abu Qatada from prison in Britain, after a British court ruled that he could not be extradited to Jordan. The ruling is just the latest setback for the government, which has been unsuccessfully trying to remove Mr. Qatada for the better part of a decade. But while a familiar name and face to British readers, Qatada is not well known on this side of the Atlantic.
Who is Abu Qatada?
Qatada is a radical Islamist preacher and alleged terrorism supporter currently living in Britain. Born in Bethlehem while the city was under Jordan's control, Qatada is of Palestinian descent and also holds Jordanian citizenship.
Qatada arrived in Britain in September 1993, seeking asylum on the basis of having been tortured by Jordanian authorities, and was granted refugee status a year later.
He quickly became a prominent figure, both in London's militant Islamic community and abroad, by advocating the overthrow of oppressive, foreign-backed governments in the Middle East in favor of regimes founded on Islam. Qatada's sermons also backed the use of violence against apostates – including their wives and children – as religiously justified.
Why is the British government trying to deport him?
---