More time or tough love? Eurozone deadlocks over Greece debt deal.
Greece needs its next aid infusion by mid-December. But European finance ministers postponed a deal amid disagreement over how much time Greece should have to pay down debt.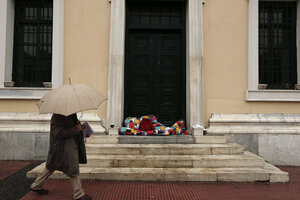 Yorgos Karahalis/Reuters
For the second time in the past two weeks, the eurozone has failed to come up with a rescue plan for Greece which is on the verge of insolvency. Finance ministers of the so-called Eurogroup meeting in Brussels last night debated for 12 hours about the terms for an urgently needed loan tranche to Athens, but finally postponed a decision until next Monday.
Greece needs the next €31 billion (nearly $4 billion) of aid to buy back government bonds, due in mid-December, and to keep state authorities and public services working. Its international lenders, the European Union, the International Monetary Fund (IMF), and the European Central Bank (ECB) want to make sure that Greece is capable of servicing its debts before they release more aid, but they disagree on how the country should get to this point.
The EU wants to give Athens more time than previously planned. By 2022, rather than by 2020, Greece should have reduced its debt to what is perceived as a sustainable level of 120 percent of gross domestic product (GDP). Without further measures, the Eurogroup says, Greek debt would be 144 percent in 2020 and 133 percent in 2022.
---