Russia's Vladimir Putin says West is fomenting jihadi 'blowback'
Moscow is criticized for weak support of the Arab Spring, and for actively backing Bashir al-Assad in Syria. But the Kremlin says its policies are consistent and the West is exporting revolt.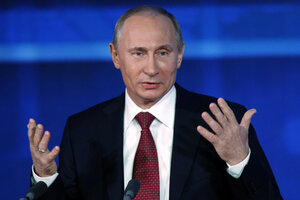 Alexander Zemlianichenko/AP/File
Both Vladimir Putin and his foreign minister have lashed out at the West in recent days for pursuing what they regard as naive and incoherent Middle East policies.
The critique targets Western backing of anti-dictator rebellions in Libya and Syria, which, as Mr. Putin tells it, only fuels the spreading flames of extreme Islamist insurrection, including the current war in Mali and last week's terrorist strike on a gas complex in Algeria.
"The Syrian conflict has been raging for almost two years now. Upheaval in Libya, accompanied by the uncontrolled spread of weapons, contributed to the deterioration of the situation in Mali," Mr. Putin said at a meeting with new ambassadors in the Kremlin Thursday.
"The tragic consequences of these events led to a terrorist attack in Algeria which took the lives of civilians, including foreigners," he added.
"Those whom the French and Africans are fighting now in Mali are the same people who . . . our Western partners armed so that they would overthrow the Gaddafi regime," in Libya in 2011, Russian Foreign Minister Sergei Lavrov told a news conference Wednesday.
---