Chinese explorers stand by claim of Noah's Ark find in Turkey
The Hong Kong-based team rebutted skepticism over their claims of finding Noah's Ark in Turkey, though they said further research is needed to prove beyond doubt that they have located the fabled biblical boat.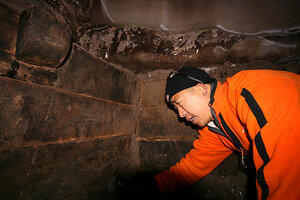 AFP /HO /Noah's Ark Ministries International (NAMI)/Newscom/File
Two members of the search team that claims to have found Noah's Ark on Mount Ararat in Turkey responded to skepticism by saying that there is no plausible explanation for what they found other than it is the fabled biblical boat that weathered a storm that raged 40 days and 40 nights and flooded the entire Earth.
Noah's Ark Ministries International (NAMI) held a press conference April 25 in Hong Kong to present their findings and say they were "99.9 percent sure" that a wooden structure found at a 12,000-ft. elevation and dated as 4,800 years old was Noah's Ark.
A flood massive enough to float a boat to the top of Mount Ararat bucks against geologic studies that show no evidence of a worldwide flood that would also have wiped out all plants, animals, and most traces of human civilization. Even prominent fundamentalist Christians who do believe in a worldwide flood have cast doubt on the latest purported discovery.
But members of the Chinese-Turkish team stood by their finding.
"How can a ship be on a mountain?" Yeung Wing-cheung, one of six team members who entered the structure on Mount Ararat last October, told the Monitor today by telephone from Hong Kong.
---