Locked out: The 12 million people without a country, and the need to become a citizen
The victims of shifting borders, politics, or the happenstance of birthplace, the world's 12 million stateless people and their need to become citizens are rising on the international human rights agenda.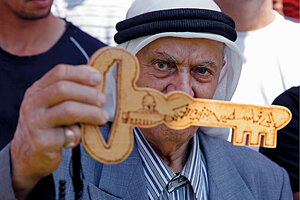 Bilal Hussein/AP
Santo Domingo, Dominican Republic
Until she graduated from high school, Sonia Camilise never had reason to question her nationality. She was born here in the Dominican Republic and grew up speaking Spanish, dancing merengue, and watching the boys play baseball in the grassy lot outside her family's small house.
"I am Dominican," she says. "Of course."
But two years ago, when she went to get a certified copy of her birth certificate – a necessary part of the college application process here – she discovered that her government had a different perspective.
The civil registry officers told her that she was not Dominican, but Haitian. Their reasoning: Ms. Camilise did not have the papers to show that her father, a Haitian immigrant, had legal residency here when she was born.
It was a shock, she says. In the Dominican Republic, citizens need new copies of their birth certificates for everything from enrolling in university to getting a visa to acquiring a marriage certificate. Now her government was essentially rejecting her – part of a new policy that Dominican officials say is necessary to combat illegal immigration.
But Haiti doesn't accept Camilise, either. Yes, she arguably looks Haitian, with her dark skin; and yes, she lives in a batey, a neighborhood built for Haitian sugar cane workers – such as her maternal grandfather – who migrated across the island of Hispaniola in the 1950s and '60s. Yet Camilise has never been to Haiti. She has a Dominican birth certificate and national ID, and even her mother was born in the Dominican Republic. She doesn't speak Creole or French, the languages of Haiti. According to Haitian officials, whose laws say that people who have chosen other nationalities cannot be Haitian, Camilise is obviously Dominican.
---