Blockbuster fizzles in US, but renters overseas haven't switched to Netflix – yet
Blockbuster's bankruptcy is not expected to affect its international operations in more than 21 countries, according to the company.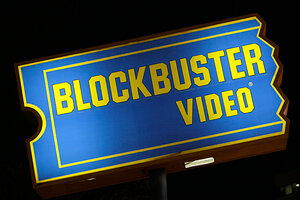 LM Otero/AP
Video rental giant Blockbuster says its international shops are conducting "business as usual," despite the company filing for bankruptcy today in the United States.
Blockbuster's business hasn't taken the same kind of hit abroad, where rent-by-mail operations such as Netflix have not gained a strong foothold in the movie rental market, according to business analysts.
"The global branches are not under attack by Redbox and Netflix," says Michael Pachter, an analyst at Wedbush Securities. "Here, they're loosing share every day. Internationally, it's not as deep."
He credits this to higher postage fees abroad and stricter rental laws in many other countries. Perhaps as a sign of what's to come, however, Netflix on Wednesday launched in Canada.
"All of Blockbuster's international operations are conducting business as usual, except that funding will no longer be provided to support the Blockbuster subsidiary in Argentina, which has been sustaining operating losses," says a Blockbuster spokesperson.
In a statement announcing the Chapter 11 filing, the Dallas-based company said operations in Argentina "have experienced continued shortfalls in operating cash flow." It did not elaborate, and the spokesperson did not go into details.
---