Faisal Shahzad, French terror arrests, and drone strikes: evidence of a working strategy?
Faisal Shahzad, the would-be Times Square bomber, was sentenced today as French police arrested alleged militants. Policing and intelligence-sharing has improved dramatically since 9/11.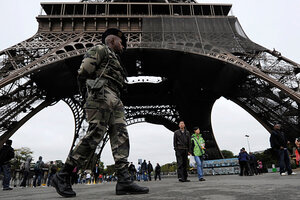 Gonzalo Fuentes/Reuters
In New York today, a smirking Faisal Shahzad was sentenced to life in prison for trying to bomb Times Square, while across the Atlantic in France, a counterterrorism operation resulted in the arrests of 12 men.
That followed a US drone strike in Pakistan yesterday that killed eight German citizens, all Muslims allegedly hoping to return to Europe and murder civilians in the name of their faith.
Those men, in turn, were connected to a British national and alleged co-conspirator killed by a US drone strike in Pakistan in September. Their plan, which appeared more aspirational than likely, given that all of the alleged plotters identified so far were thousands of miles from Europe at the time of their deaths, was allegedly to roam the streets of a major European city with small arms, similar to the attack in Mumbai two years ago that left 168 people dead.
Reason for fear, or optimism?
---