Global leadership: In Rwanda, women run the show
Global leadership: Rwanda, a tiny African nation, has the highest proportion of women leaders.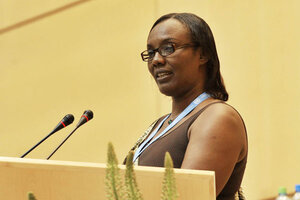 Newscom
When Béata Murekatete was growing up in rural Rwanda, she never would have imagined she'd end up working for Parliament.
She's not a lawmaker, but everything she does touches the law. She's a researcher, and she spends her days in villages around Rwanda researching reports for parliamentarians about issues with which ordinary Rwandans might need a helping hand.
Tiny Rwanda, in the center of Africa, is the only country in the world with a female majority in Parliament. That statistic alone, says the young mother, inspires her – and her generation.
"This motivates our small daughters; it motivates our sisters. They know that they can do what our brothers do," Ms. Murekatete says. "We do not fear to compete with men. That's a good step for women in Rwanda."
The country made history in 2008, when 56 percent of the politicians it sent to Parliament were women, far surpassing a national quota set at 30 percent. Two years before that, women were elected to a third of all mayoral-level posts. Women lead a third of Rwanda's ministries. They protect public assets – the head of the tax authority and the auditor general are women. Every police office in Rwanda has a "gender desk" to take reports of violence against women, as does the national Army.
Sen. Marie Mukantabana, vice president of the Rwandan Senate and chair of the Women's Parliamentary Forum, says the ascent of women in politics reflects their unique characteristics: "Women have integrity. Women have particular natural qualities; they listen well; they respect others, not just other women, but all Rwandese…. There are things we are better at than men."
---