Global leadership: Voters launch a power surge of women
Brazil's President-elect Dilma Rousseff is the latest in a power surge of women in global leadership positions.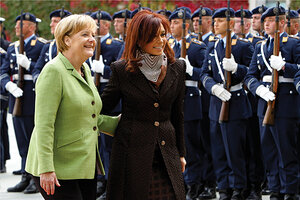 Markus Schreiber/AP
When Johanna Sigurdardottir campaigned to be prime minister of Iceland last year, she vowed to bring an end to the "age of testosterone."
It was a reference to the international banking meltdown that destroyed her country's financial system. But the gender dynamics were also clear: Ms. Sigurdardottir was suggesting that men had had their chance and that it was time for women to take over. Her center-left party won by a landslide.
Iceland may be unique in its gender equity. The World Economic Forum called the country the world's best at closing gender gaps in economics, health, education, and political representation; in March, Iceland banned strip clubs – for feminist, not religious, reasons.
But globally, as far as women in politics goes, the concept is becoming altogether mainstream.
Over the past decade, almost every region of the world has seen exponentially more political seats – legislative and executive – go to women. Iceland's 42.9 percent female representation in the legislature, for instance, now sits in the rankings behind South Africa's 44.5 percent, Cuba's 43.2 percent, and Rwanda's 56.3 percent, according to the Inter-Parliamentary Union (IPU).
More men than women voted for her
---