Skype brings 10 million users back online, but millions more still without call service
Luxembourg internet phone company Skype said this morning that users had doubled in several hours to 10 million people, though the impact on investor sentiment may be more lasting.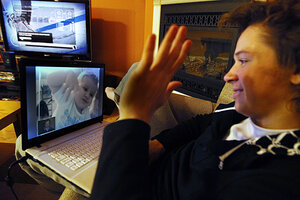 Newscom/File
Skype was rapidly bringing its calling service back online today after a software problem arose Wednesday that disconnected millions of families, friends, colleagues, and businesses just days before Christmas.
The Luxembourg company said 5 million people were using Skype early Thursday morning, about 30 percent of normal for that time of day. Two hours later, in a Twitter post at 9:30 a.m. EST, Skype said the number of online users had doubled to 10 million over the previous hour.
"Unfortunately, it's not possible for us to predict on an individual level when you'll be able to sign in again, and we thank you for your patience in the meantime," the company, which has some 125 million subscribers and up to 23 million simultaneous users at peak times, said in a blog post today.
IN PICTURES: The top 10 nations for online work
Skype has become a famous global brand since launching in 2003 and connecting the world with its free Skype-to-Skype voice and video calls and cheap Skype-to-phone calls. TeleGeography Research found that Skype-to-Skype calls accounted for 13 percent of all international call minutes in 2009, up from 8 percent in 2008, making it the largest provider of cross border communications in the world. But the latest technical malfunction – at Christmastime, no less – may dampen investor excitement about Skype's forthcoming initial public offering (IPO).
"The outage comes at a time when Skype is starting to ask larger corporations for their business," industry commentator Om Malik told the BBC. "If I am a big business, I would be extremely cautious about adopting Skype for business, especially in light of this current outage."
---
Follow Stories Like This
Get the Monitor stories you care about delivered to your inbox.