Spain police crack Anonymous cell accused of hacking PlayStation
The three members of the Anonymous group are alleged to have hacked government websites as well as the Sony PlayStation online store – though they were apparently not involved in the larger recent hacking of PlayStation users.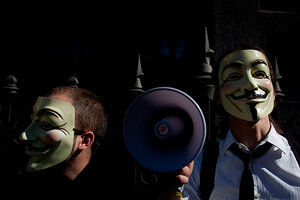 Arturo Rodriguez/AP/File
Spanish police today said they have arrested three key members of Anonymous – a group of hacker-activists involved in denial-of-service computer attacks on government and corporate websites as well as the Sony PlayStation online store.
The trio were described by police as just one cell of the larger, loosely affiliated international group Anonymous, which gained notoriety last fall for launching computer attacks on Visa, MasterCard, PayPal, and others that had cut off services to WikiLeaks and its founder, Julian Assange.
"Hacktivists" claim not to be criminals, but online activists who launch so-called distributed denial of service (DDoS) attacks to clog the websites of offending businesses. The attacks cause computers they control to make millions of virtual requests for information simultaneously. In other instances, criminals have also used DDoS attacks to extort protection money in exchange for refraining from launching such attacks.
In Spain, the three arrests were the culmination of a lengthy investigation that began after the group allegedly bombarded a government culture ministry website in December. That led to Spanish police monitoring of Anonymous-affiliated websites and analysis of more than two million lines of content in log chats and web pages, the technology investigation unit of the national police force said in a statement.
---