Israel issues second, stronger apology in diplomatic standoff with Turkey
(Read article summary)
Turkey reacted with fury this week after what it termed "humiliating" treatment of its ambassador to Israel by Deputy Foreign Minister Danny Ayalon. Mr. Ayalon issued a second apology to head off a Turkish threat to recall its ambassador.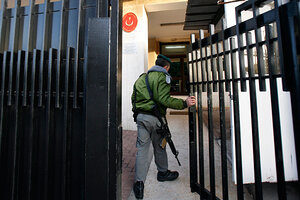 Gil Cohen Magen/REUTERS
(updated at 4:30 pm Eastern Standard Time to show Turkey has accepted the apology.)
Israeli Deputy Foreign Minister Danny Ayalon issued a second statement of regret over a breach of diplomatic protocol with the Turkish ambassador earlier this week that further threatened strained ties and spurred Ankara threaten to recall its ambassador, Oguz Celikko.
Late on Tuesday, Mr. Ayalon said, "it is not my way to disrespect ambassadors' honor, and in the future, I will clarify my position in a diplomatically acceptable manner."
He didn't say he was "sorry" or directly apologize, and Ankara said the response was unacceptable, setting the end of the day on Wednesday as a deadline for the delivery of a stronger statement of regret, and warning that if it didn't receive one, Mr. Celikko would return home.
The diplomatic tension between the Jewish state and one of its longest-standing majority-Muslim allies was sparked after Ayalon summoned Celikko to his office to complain about the popular Turkish television show Valley of the Wolves, which recently depicted Israeli agents operating inside Turkey and kidnapping Turkish babies. A day after the meeting, Ayalon explained his position on his Twitter feed: "The Turkish TV show about Jews kidnapping non-Jewish children proves that anti-Israelism is just repackaged antisemitism," he wrote.
But whatever the merits of his complaint, the meeting proved a diplomatic debacle, with Ayalon caught on Israeli TV telling cameramen: "Pay attention that he is sitting in a lower chair ... that there is only an Israeli flag on the table, and that we are not smiling." That prompted Turkish President Abdullah Gul to issue an ultimatum: Deliver an official apology or the ambassador would be withdrawn.
A 'clarification'
---
Follow Stories Like This
Get the Monitor stories you care about delivered to your inbox.