Turkey aims for clout as regional mediator
Back-channel discussions between Syria and Israel are being facilitated by Turkey, which has close ties to Israel and growing ties to Syria. The United States is supportive of the effort.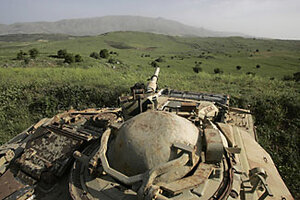 Baz Ratner/REUTERS
Drawing on its close ties with Israel and growing closeness to Syria, Turkey is working to position itself as a key regional mediator in the Middle East.
Last week, Israel and Syria revealed that Ankara had stepped in to fill a diplomatic vacuum by facilitating back-channel discussions between the two states.
That effort received a boost Sunday from Secretary of State Condoleezza Rice, who said that the United States would back such a peace initiative. She qualified her support by stating that Damascus needed to rethink its policy toward Lebanon.
Turkey's bid, analysts say, is part of a larger plan to improve its relations with neighbors and take full advantage of its location and historical Ottoman ties to play a larger role than it has in previous decades. But many questions remain about its ability to establish itself as a heavyweight quite yet.
---