Why are Galapagos sea lions moving to Peru?
(Read article summary)
A colony of sea lions from the Galapagos Islands recently migrated 1,000 miles southeast to Peru, say a Lima-based ocean group. Was this migration – and others like it – caused by climate change?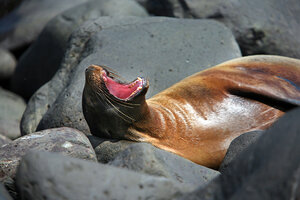 Melanie Stetson Freeman/The Christian Science Monitor.
Warming ocean waters are turning the Peruvian coast into a retreat for Galapagos sea lions, according to an ocean life monitor in South America.
A colony of about 30 sea lions from Charles Darwin's old stomping ground recently migrated 1,000 miles southeast to the northern coast of Peru, the Lima-based Organization for Research and Conservation of Aquatic Animals (ORCA) recently announced. The organization says the sea lions migrated south because of rising temperatures off the coast of northern Peru, which warmed six degrees Celsius over the past decade to 23 degrees Celsius as a result of climate change, reports the BBC.
The UN Environment, Scientific and Cultural Organization (Unesco) in 2008 declared the Galapagos Islands, the world's first World Heritage Site, "in danger" and under threat from invasive species, increased tourism, and growing immigration.
---