No David Beckham for England this World Cup. So what?
(Read article summary)
England soccer legend David Beckham – arguably the biggest British import since the Beatles – suffered an heel injury Sunday night that is expected to prevent him from playing in June's World Cup.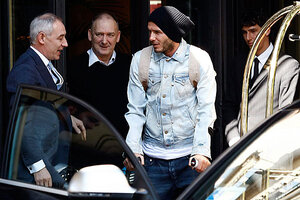 Alessandro Garofalo/Reuters
A bit of England died Sunday night.
Hero, patriot, legend, hearthrob, He Who Bends It will not be playing in the World Cup.
"THE END OF THE WORLD" screamed one tabloid.
Meanwhile, David Beckham – the richest player in world's most popular sport – was being rushed to a surgeon in Finland after tearing his Achilles' tendon during a match in Italy Sunday night.
After the 50-minute-operation was completed Monday afternoon, the surgeon said Beckham required at least four to five months recovery.
But how much will Beckham's absence really hurt team England at the World Cup starting in June?
Short answer: Not much.
"England's chances at the World Cup will only be minimally impacted by [Beckham's] absence," writes Adrian Musolino in The Roar sports blog.
"England under [Italian coach Fabio Capello] can go all the way, with or without Becks. They have the talent and the coach needed. ... Beckham was a sidebar."
---