Polish president plane crash: Why so many Tu-154 crashes?
(Read article summary)
The Polish president plane crash this weekend will intensify scrutiny of the Tupolev Tu-154, a Russian-made jet that has been involved in several high-profile crashes in recent years.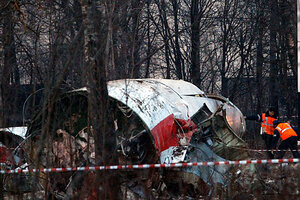 Sergey Ponomarev/AP
The plane crash that killed Polish President Lech Kaczynski and a wide swath of the country's political elite this weekend is bound to intensify scrutiny of the plane, the Tupolev Tu-154, which is Russia's ubiquitous aviation workhorse and a mainstay of many airlines around the developing world.
Russian investigators have been swift to give a clean bill of health to the aircraft that was carrying Mr. Kaczynski and 95 others when it crashed in heavy fog near the Russian city of Smolensk on Saturday.
They insist that the 26-year-old Polish Air Force plane was in excellent technical shape, and that "pilot error" was the most likely cause of the crash.
The Russia-24 cable news channel on Sunday quoted Alexei Gusev, director of the Aviakor factory in Samara, Russia, as saying the plane had flown "quite normally" during its regular full checkup at the plant last December.
"No problems appeared during the testing of this aircraft," he said. "I recall that the [Polish] pilots who came to pick it up after its repairs, and did their own checks, were very happy with it."
---