Champions League semifinal: Balotelli racism tiff taints Inter Milan's win over Barcelona
(Read article summary)
Inter Milan beat Barcelona 3-1 Tuesday night to win the first leg of the Champions League semifinal, but the victory was tarnished by striker Mario Balotelli throwing his jersey to the ground at the end.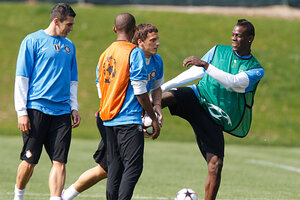 Luca Bruno/AP
It was a night to remember for Inter Milan soccer fans.
Their team had just handed the glorious Barcelona squad a solid, 3-1 drubbing in the first leg of the Champions League semifinal.
But the morning after, the victory is tarnished by the image of an angry Mario Balotelli throwing his Inter Milan jersey to the ground in disgust at the end of the match.
IN PICTURES: Football around the world
"Super Mario," the teenage Italian striker of African descent, came in off the bench with 20 minutes left in the game only the be jeered by the hometown crowd, something he quickly attributed to racism.
As the Monitor has reported over the years, racist fans have been a problem for European soccer, perhaps nowhere moreso than in Italy. The summer before last the Italian city of Bologna hosted the Anti-Racist World Cup tournament in a bid to tackle the problem.
---