'Bloody agent': In South Africa, race-tinged remixes go viral
(Read article summary)
The 'bloody agent' dance remix of politician Julius Malema's recent racial tirade is a big hit online. Now, it's joined by the 'don't touch me on my studio' video mashup of a confrontation between a black TV host and his white supremacist guest.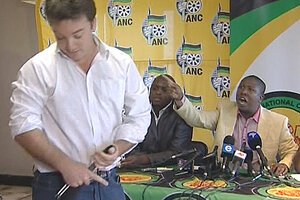 APTN/AP
Johannesburg, South Africa
What is it about South Africa?
A young politician loses his temper in a press conference, in front of dozens of reporters, and within a matter of hours, his tirade is turned into an underground dance remix.
And from there, it went viral on the Internet.
Julius Malema, of course, is the politician, a man whom Time Magazine this week listed as one of the world's "least influential people." Mr. Malema, you mqy recall ejected a BBC reporter, Jonah Fisher, from a press conference last month, calling him a "bloody agent," and accusing him of having a "white tendency."
It was a phrase that captured the public imagination, and that proved to be rather danceable.
Soon, an anonymous music producer had created a dance song, with snippets of Malema's meltdown providing the lyrics. The hit focuses on Malema's strange taunt: "bloody agent."
What kind of agent? One wonders. Real estate? Hollywood? Or has Mr. Malema been reading a bit too much John Le Carré recently?
Never mind, just as long as he says it to the beat. (It's quite catchy.)
Within days, another Malema-inspired song came out, produced by Capricorn FM radio's Ashifa Breakfast Show. This time the song was called Tjatjarag, (pronounced Cha-cha-ra-ch) which means to be overly excited and slightly annoying. This song reflected a much more militant and pro-Malema tone. The refrain cheers Julius "Ju-Ju" Malema on, somewhat chillingly: "Chase them, chase them, chase them Ju-Ju, chase them."
---