South Africa's Zuma goes soft on Malema. Is he losing control of the ANC?
Days after threatening 'consequences' for misbehavior within the ruling African National Congress party, President Jacob Zuma now seems to be going soft on Julius Malema, the leader of the vaunted party's youth league.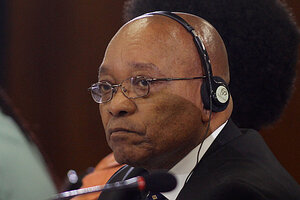 Eraldo Peres/AP
Johannesburg, South Africa
Is South Africa's president, Jacob Zuma, the kind of man who can be pushed around?
Just days after rebuking Julius Malema, the outspoken leader of the ruling African National Congress's Youth League, for dressing down a BBC journalist in racial terms, singing a racist protest song, and embracing the brutal land policies of Zimbabwean President Robert Mugabe, President Zuma seems to have decided to let Mr. Malema off with a verbal warning.
Zuma's call for "consequences" for misbehavior had raised expectations that perhaps Malema would be suspended for a time, or even expelled. But Zuma's decision to be lenient is now being seen as a sign of weakness and loss of control of his own ruling party.
"This decision is very significant, because after this, others will smell blood, and it will be Jacob Zuma's blood that they smell," says Aubrey Matshiqi, a former ANC member and now a political analyst for the Center for Policy Studies in Johannesburg. "In a battle like this, someone is going to be weakened, and with resources diverted to this battle, someone is going to be damaged. Zuma is not as strong as he was at this time last year."
---