Can Jacob Zuma wrap himself in Nelson Mandela's cloak?
South Africans celebrated the 20th anniversary of Nelson Mandela's release from prison Thursday. President Jacob Zuma has strategically scheduled his State of the Union speech for the same day.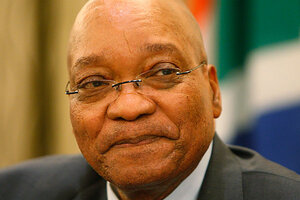 Schalk van Zuydam/AP
Johannesburg, South Africa
It's a common political trick to wrap oneself in the hallowed garments of previous political giants. President Obama evoked a certain John F. Kennedy charm, with a dash of Martin Luther King Jr., during his 2008 presidential campaign. President Bush evoked Franklin Roosevelt's cool resolve in the days after the Sept. 11 attacks.
And South Africa's President Jacob Zuma, by scheduling his State of the Nation address on the 20th anniversary of the release of former President Nelson Mandela – the most unifying political figure in South Africa's history – is hoping that some of Mr. Mandela's gravitas rubs off as well.
If it works, it couldn't come at a better time.
Mr. Zuma has been dogged by a sagging economy, his party's failure to improve the lives of the poor, and by a spate of sex scandals. Wittingly or not, by comparing himself to Mandela, Zuma has set the bar of expectations very high indeed.
"The ANC itself has acknowledged what the central issues are, which is that the way public services are administered is inadequate," says Steven Friedman, a political analyst and director of the Center for the Study of Democracy at Rhodes University and the University of Johannesburg. "The reason we have these protests, is that people are not being listened to and people are not being paid attention to."
---
Follow Stories Like This
Get the Monitor stories you care about delivered to your inbox.