Clashes with red shirt protesters create 'war zone' in downtown Bangkok
(Read article summary)
Red shirt protesters clashed with Bangkok police after a renegade general who supported the opposition was shot Thursday. Two months of violence have now killed 34 people.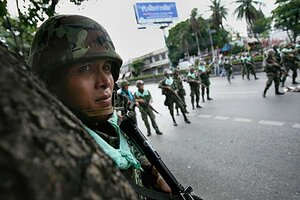 Wally Santana/AP
Little more than a week after it seemed Thailand's antigovernment protestors were on the brink of an agreement with the nation's ruling party, violent protests erupted Friday leaving at least five additional people dead and 81 injured. The two months of violence have now killed 34 people.
The latest wave of violence began after a renegade Thai general who was supporting the red shirts was shot in the head Thursday night, after Thai military forces surrounded the so-called "red shirt" antigovernment protesters' camp in the heart of Bangkok in an attempt to seal it off and prevent reinforcements from entering.
Protesters allege that a Thai Army sniper tried to assassinate Maj. Gen. Khattiya Sawasdipol, a vocal critic of the government. Military officials deny that they had any involvement in the shooting. Sawasdipol, meanwhile, remains in critical condition.
---