Top 10 countries with most improved child mortality rates
(Read article summary)
A new study shows that child mortality rates have plummeted over the past two decades. While the US has also seen improvements, 123 other countries improved more.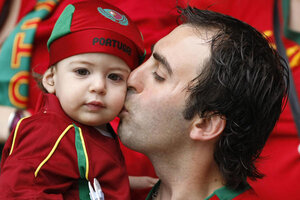 Olivier Morin/AFP/Getty Imgages/Newscom
Children are living longer, according to a new study that shows global child mortality rates have dropped 35 percent over the past two decades.
An estimated 11.9 million children under age 5 died in 1990, compared with 7.7 million infant deaths in 2009, according to the Institute for Health Metrics and Evaluation (IHME) at the University of Washington, which released its report Sunday. But where the rest of the world is seeing fast improvements, the US lags behind in reducing child deaths.
IN PICTURES: Countries With Most Improved Child Mortality Rates
The 2009 total consists of 3.1 million deaths during birth, 2.3 million deaths in the first year, and 2.3 million deaths of children aged 1 year to 4 years. The study includes new data and increased accuracy from past estimates, said Julie Knoll Rajaratnam, the lead author of the study and assistant professor of Global Health.
In 1990, 12 countries had an under-5 mortality rate of more than 200 deaths per 1,000 live births. Today, no country has an under-5 mortality rate that high, according to IHME estimates. In Ethiopia, the under-5 mortality rate in 1990 was 202 per 1,000 live births, one of the highest rates in the world. Over the next two decades that fell by half, to 101 per 1,000.
---