Global mystery: Why are snakes dying off?
(Read article summary)
Climate change is a possible explanation for the snake's 'drastic decline' in Europe and Africa. Snakes now join a list of declining animal populations that includes fish, amphibians, reptiles, birds, and mammals.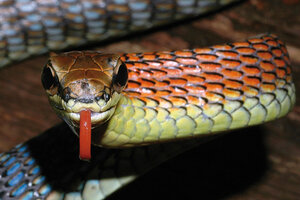 Gernot Vogel/World Wildlife Fund/AP
Good news for Indiana Jones and others with ophidiophobia: a new study shows snake populations have declined worldwide.
Bad news for farmers and those afraid of rats and mice: rodents now have fewer predators to outsmart.
The world's first global study on snake populations revealed that 11 of 17 snake populations in the United Kingdom, France, Italy, and Nigeria plummeted between 1998 to 2002. Some populations fell by as much as 90 percent, according to the study from the Centre for Ecology & Hydrology in England.
"Since the drastic decline, the populations have not continued to decline, they have not died out, they are still present, but they are present at much lower densities than before," lead scientist Chris Reading says in a telephone interview from England.
Only one population (the Western whip snake of France) showed a sign of increasing during that four-year-period. (The Guardian provides a complete list of snakes in the study.)
---