Paris trial of Société Générale trader: Who's responsible for $6 billion loss?
(Read article summary)
The Paris trial of Jérôme Kerviel, a young futures trader at No. 2 bank Société Générale, got under way this week. Did he make unauthorized trades without his superiors' knowledge?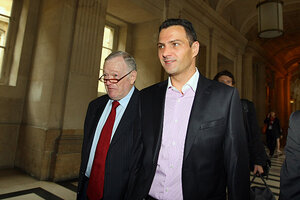 Jacques Brinon/AP
So now we are finally at the Paris trial of Jérôme Kerviel, the junior futures trader and celebrity-accused who managed to lose some $6 billion of the assets of Société Générale. The basic question to be answered: who is responsible?
Millions of media years ago, in the Paleolithic period of January 2008 before toxic assets, Bernie Madoff, global meltdowns, sovereign debt, and the Greek bailout – back in the days when $6 billion was real money – rose "l'affaire Kerviel."
The drama involving France's No. 2 bank soaked headlines for months: How could a young buck not even from Paris, but provincial Breton, not an elite, who had "girlfriend trouble," worked 23.5 hours a day, seemed slightly Tom Cruise-y, and didn't actually profit from his artful dodging, cause the largest-ever loss of its kind, shaking global markets?
Former Société Générale chief Daniel Bouton, who resigned amid intense criticism just over a year ago, branded Kerviel "a terrorist" at the time. But Kerviel quickly became a romantic underdog – a clever anti-hero seen to be caught in the massive cogs of finance, who was only trying to do his job. T-shirts around Paris read, "I am Jerome's girlfriend," and he wrote a tell-all book, published last month.
---
Follow Stories Like This
Get the Monitor stories you care about delivered to your inbox.