In Tehran, Afghan refugee children find joy and dignity in theater [video]
(Read article summary)
In the recent documentary 'No Lips, No Laughter,' a young Iranian-American filmmaker portrays seven Afghan refugee children who – with few resources other than their own creativity – stage a play about a man who discovers true happiness comes from within.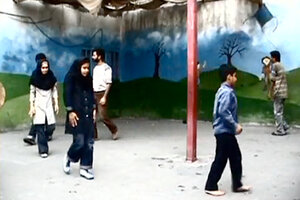 YouTube
In a recent documentary, "No Lips, No Laughter," Iranian-American filmmaker Saba Farmanara provides an inspirational account of how art has helped a small theater troupe of young refugees define their individuality and find hope in a country where they have no official identity: the Islamic Republic of Iran.
Mr. Farmanara takes viewers to the inner courtyard of a Soviet-style apartment building with austere walls, hidden off a side street near south Tehran's Shoosh Square.
There, instructor Hamid Pourazari's small theater troupe has succeeded – with little money and few resources beyond the young students' own talent and creativity – in transforming an abandoned courtyard into an oasis of hope within the sometimes harsh Tehran cityscape.
In one scene of the 36-minute film, a dozen or so children and teenagers – all Tehran residents – circle the building's sparse courtyard, which is enclosed by cobalt-blue walls. Mr. Pourazari – a tall, darkly handsome man with mussed curly hair and wire-rimmed glasses – recites verses from a children's poem by famed Iranian poet Ahmad Shamlou, directing the intensity of the youngsters' movements as they wave their arms in concert to the poetry's expressions of sorrow, hope, and patience.
"This is my one hour of the day where I can get away from my life ... and be someone else," says Nessar Zarifi, a slender Afghan teenager with a soft smile and cropped black hair. "It's as if I leave my body and enter someone else's skin."
More than 1.5 million undocumented Afghan refugees
---