Iran nuclear scientist Shahram Amiri heads home amid propaganda war
The saga of Iran nuclear scientist Shahram Amiri, who reportedly defected to the US last year, is a special case in the 31-year propaganda war between the US and Iran.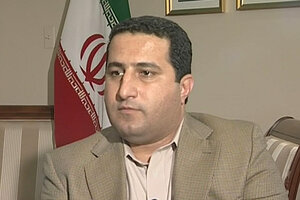 ATN1 DK via APTN/AP
Iran nuclear scientist Shahram Amiri is reportedly headed back home after declaring that he had been kidnapped by American agents in Saudi Arabia and brought to the US against his will.
Just months before, US officials had called Mr. Amiri's arrival in the US a defection and hailed it as an "intelligence coup" for the CIA. More recently, according to ABC news, officials said Amiri had supplied nuclear secrets for years and had "provided evidence that Iran continued a program to produce nuclear weapons."
Even by the high standards of a 31-year propaganda war between the US and Iran, the Amiri saga is a special case.
Iran's state-run media claimed Amiri's return as a victory for the country, while US Secretary of State Hillary Clinton was nonchalant on Tuesday, saying Amiri had "been in the United States of his own free will and he is free to go."
"On the propaganda score, I would give a marginal victory to Iran at the moment," says Ali Ansari, director of the Institute for Iranian Studies at St. Andrews University in Scotland. "There are more questions to be answered by the Americans, I think. But it's not an [Iranian] triumph."
---
Follow Stories Like This
Get the Monitor stories you care about delivered to your inbox.