Iranian scientist defects: US covert ops hurt Iran nuclear program
The defection of Iranian scientist Shahram Amiri to the US shows that a long-running CIA covert program against the Iran nuclear program is working.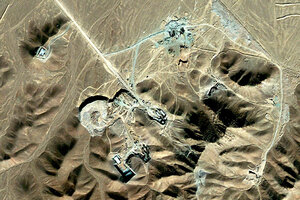 DigitalGlobe/Handout/REUTERS
An Iranian nuclear scientist who disappeared while on a religious pilgrimage to Saudi Arabia last year is reported to have defected to the United States and been briefing the CIA on Iran's controversial nuclear program.
ABC News's report on Shahram Amiri is a rare public revelation on a long-running covert intelligence effort led by the United States.
Sources briefed on the continuing CIA operation told ABC that Mr. Amiri's defection was "an intelligence coup" in American attempts to damage and better understand Iran's controversial nuclear program.
"Amiri's disappearance was part of a long-planned CIA operation to get him to defect," ABC reported. "The CIA reportedly approached the scientist in Iran through an intermediary who made an offer of resettlement on behalf of the United States." Amiri "helped confirm US intelligence assessments" about Iran's nuclear work.
"Iran has by now enough trained operators and scientists that it would be impossible to decapitate the program by persuading the leading scientists to defect or otherwise making them disappear," says Mark Fitzpatrick, a nuclear nonproliferation expert at the International Institute for Strategic Studies in London. "But in any fledgling nuclear weapons program, there are a small number of key scientists who can make the critical breakthroughs," Mr. Fitzpatrick told the Monitor.
---
Follow Stories Like This
Get the Monitor stories you care about delivered to your inbox.