Ramadan 2010 USA: From Miami to Mecca, how 1.6 billion Muslims celebrate
(Read article summary)
Ramadan 2010, USA-style, includes streaming footage of Friday prayer sermons as Muslims seek to counter rising anti-Islamic sentiment. Saudi Arabia unveils a new clock, while Morocco makes do with makeshift tents after 1,256 mosques were closed.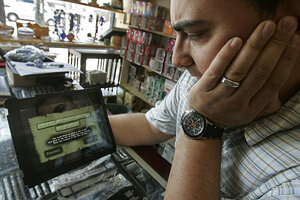 Rich Schultz/AP
Ramadan 2010 USA started Wednesday as Muslims from Miami to Mecca began the month-long fast to mark what they believe was Allah's revelation of the Koran 14 centuries ago. This is the first time in nearly 30 years that Ramadan, whose timing depends on the lunar calendar, has corresponded with the hot summer months of the Gregorian calendar.
In addition to the heat, Muslims – who now comprise roughly a quarter of humanity – face unique challenges and perks depending on whether they're celebrating in America, Arab countries, or as far north as the Arctic Circle:
In Jerusalem, considered the third holiest city in Islam, West Bank Palestinians will be allowed to visit the Temple Mount compound without permits. But there's a catch to visiting the area, which is home to the Al Aqsa Mosque and the iconic golden Dome of the Rock: Men must be over age 50 and women over the age of 45. For married individuals, the age limit drops to 45 and 30, respectively.
---