Did a Catholic priest assist an IRA murder in Northern Ireland?
(Read article summary)
An investigation in Northern Ireland into a 1972 bombing that killed nine people concluded that British officials and the Catholic church helped cover up the suspected role of a Catholic priest in the attack.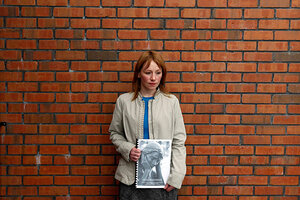 Cathal McNaughton/Reuters
It has been a bad year for the Roman Catholic church in Ireland. Already reeling from child abuse scandals, the church now stands accused of protecting a priest suspected of killing nine people on behalf of the Irish Republican Army in 1972.
Three bombs exploded in the county Derry village of Claudy exploded on July 31, 1972, in one of the most serious single attacks of Northern Ireland's so-called "Troubles." Five Protestants and four Catholics were killed. Among the victims was an 8-year-old girl.
A report published today by the police ombudsman for Northern Ireland found that police at the time concluded that Father James Chesney was the head of the IRA in south Derry and was strongly suspected of being directly involved in the bombing. But rather than moving to prosecute or arrest him, the British government, the now-disbanded Royal Ulster Constabulary, and the church itself conspired to move Fr. Chesney to the Republic of Ireland, where he'd be less able to contribute to the north's political violence.
"That the report finds that a man of God helped to plan the atrocity only compounds the horror of the deed and deepens the grief of the village," says Hugh Logue, a former politician for the area. "Many of the relatives have told me they relied on their love of God to see them through the years and stressed that that love is undiminished.That there was a coverup cannot be defended, even in an era of coverup. It was an age of denial, and anyone who played a role in this denial can only be ashamed."
---