Why Anne Frank's tree stood for so much
(Read article summary)
Hans Westra, executive director of the Anne Frank House in the Netherlands, says the dreams of the world-famous Jewish girl who died in the Holocaust came to be tied up in the 150-year-old chestnut, which came down in stormy weather.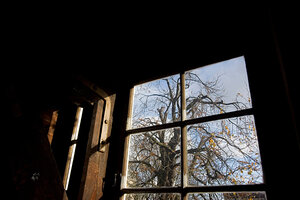 Peter Dejong/AP/File
A day after the 170-year-old chestnut tree that stood outside the Anne Frank House was felled by stormy weather, I called Hans Westra, executive director of the Anne Frank House in Amsterdam, to talk about how and why a tree falling down can become such front-page news.
Anne Frank, the teenage Jewish girl who chronicled her experiences hiding in an attic in Nazi-occupied Holland, received international acclaim when her diary was discovered and later published after her death in a concentration camp. The chestnut tree outside her Amsterdam hideout was a frequent feature of her bleak picture of World War II in Western Europe.
"It's a tree with a long history," he begins. "All the other windows in the house were covered by curtains, and the attic was the only room out of which Anne Frank could properly see without fear of anyone seeing her. So, she would sit there and look out at the sun and the top of the chestnut tree. All her longing for freedom came to be tied up with that tree."
I wanted to know: Do we need tangible aids to help us comprehend and remember the Holocaust? When Anne Frank's chestnut tree falls, as has just happened, or, even more to the point, as the survivors pass away, is it then harder for new generations to connect with and understand the Holocaust?
---