Why $60 billion in US arms to Saudi Arabia isn't causing an outcry
(Read article summary)
Israel doesn't oppose a US arms deal that would send advanced aircraft to Saudi Arabia, which is increasingly seen as essential to containing Iran's nuclear ambitions.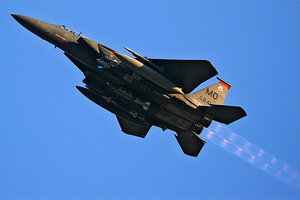 Bob Strong/Reuters/File
Nine years after 9/11 sent US-Saudi relations crashing to a low point, bilateral ties have made a complete 180-degree turnaround with the Obama administration's plan to sell up to $60 billion worth of advanced aircraft to Saudi Arabia.
The package, which would be the US's largest-ever overseas arms sale and has been in negotiations since 2007, underscores how Israel no longer feels threatened by Saudi Arabia and how the US increasingly sees the Gulf state as essential toward containing Iran, says Thomas Lippman at the Council on Foreign Relations.
"It's a reminder to the Iranians," says Mr. Lippman, that if Tehran continues down a nuclear path "the response will be to so beef up regional rivals and enemies that their overall position will be diminished."
The Wall Street Journal reported that the package would include 84 new Boeing F-15 fighter jets and upgrades to another 70 of them. It would also include three types of helicopters: 72 Black Hawk helicopters, 70 Apaches, and 36 Little Birds. In addition, US officials are discussing a $30 billion package to upgrade Saudi Arabia's naval forces.
---