Has Iran met its Millennium Development Goals?
(Read article summary)
The answer to whether Iran has met UN Millennium Development Goals of reducing poverty while boosting gender equality and access to education depends on whether you believe Iran's numbers.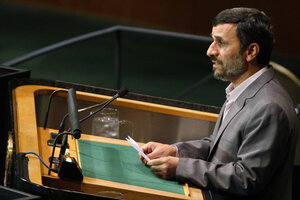 Aaron Jackson/AP
Iran may owe its international stardom to the controversy surrounding its nuclear program, but at the United Nations General Assembly this week, the world will focus on a different side of the Islamic Republic: Its domestic accomplishments.
Iranian President Mahmoud Ahmadinejad has shifted world alliances, pitchpoled the Middle East's power balance, and inherited Fidel Castro's fading mandate as the anti-leader of the Free World.
But what has he done for his people? Has he met the UN's Millennium Development Goals of reducing poverty and gender inequality while boosting access to education?
Middle East analyst Meir Javendanfar says the answer depends on how much confidence one holds in the statistics Mr. Ahmadinejad is toting to the UN summit this week.
Who's crunching the numbers?
Consider education: According to Iran's official math, the nation has boosted primary school enrollment to 94 percent, and turned a girl deficit in its schoolhouses to a girl surplus.
Yet the same UN that is fêting Iran's progress has also ranked Iran's brain drain rate as the world's highest. In Tehran and in the provinces, the dropout rate is increasing, Mr. Javendanfar notes – which is why he says "these numbers are suspect."
"The Iranian government has a tendency to play with the numbers," he says. "These numbers come with a wide margin of error."
---