Does American hiker Sarah Shourd's release help Ahmadinejad?
American hiker Sarah Shourd's release was supposed to be a 'gift' from Ahmadinejad, who heads to the United Nations next week amid intense international pressure. But his actions riled conservatives in Iran.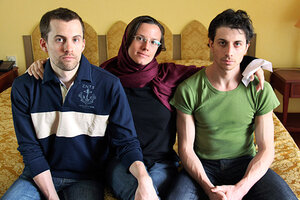 Press TV/AP/File
American hiker Sarah Shourd was released by Iran today after more than 13 months in prison. Her release, delayed by apparent political wrangling behind the scenes, is the latest twist of an internal power struggle inside Iran that comes just days before President Mahmoud Ahmadinejad travels to the US.
Ms. Shourd and her companions, Shane Bauer and Joshua Fattal, were arrested in July 2009 for allegedly crossing into Iran while hiking in northern Iraq. The Islamic Republic has since accused the trio of spying, with Iranian prosecutors saying they had "compelling evidence" of links to US intelligence agencies.
State-run PressTV reported that Shourd had been handed over to the Swiss Embassy, whose diplomats look after US interests in Iran, after it provided a bank guarantee for $500,000 bail. Tehran's prosecutor general, Abbas Jafar Dolatabadi, told PressTV that the bail was deposited in an Iranian bank in Oman and Shourd "was set free and she can leave Iran."
IN PICTURES: US hikers detained in Iran
News reports said she departed Iran on a chartered plane for Oman, where family was waiting.
---