Global Gender Gap Index: Iceland tops, France drops, and US breaks into top 20
(Read article summary)
Iceland is No. 1 and Yemen is ranked last in the World Economic Forum's 2010 Global Gender Gap Index, which measures gender equality.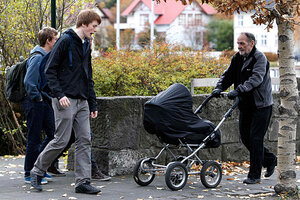 Chris Helgren/Reuters
Many women around the world are now as educated and healthy as men. But when it comes to politics and the labor market, they are still fighting to close the gender gap. The World Economic Forum provides ample evidence of that disparity – and many other differences between women and men across the globe – in the 2010 Global Gender Gap Report released today.
The report shows that while women have come a long way in education and health equity, there is still a significant lag in economic and political participation, says Ricardo Hausmann, one of the authors of the report and the director of the Center for International Development at Harvard University.
"For the majority of the countries, women now have more education than men" and health is no longer a major issue for most, says Mr. Hausmann, who created the index. "What becomes more of an issue is economic participation and political participation."
The report's index measures the gender gap by evaluating women's access to resources relative to the resources available to the entire country's population, which prevents a country's level of development from having too much influence on the rankings. Countries are evaluated on four criteria: economic participation and opportunity, political empowerment, education, and health.
Scandinavians on top
---