Russian spies given top honors; Anna Chapman launches iPhone app
(Read article summary)
Russian spies deported from the United States earlier this year, including Anna Chapman, have received top honors from President Dmitry Medvedev.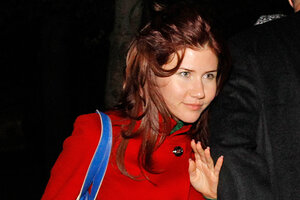 Dmitry Lovetsky/AP/File
Russian spies have traditionally faded into obscurity, embracing the aura of mystery surrounding the KGB. But not those deported from the United States earlier this year in a classic Cold War spy swap.
They were awarded top state honors Monday in a ceremony at the Kremlin, just days after one of them, the red-haired Anna Chapman, launched an iPhone application that allows users to play poker against a "virtual" Anna. She has had no shortage of high-profile appearances in recent months, singing with Prime Minister Vladimir Putin, posing for the Russian edition of Maxim, christening a space launch, and going to work for a major domestic bank.
"A ceremony took place in the Kremlin [Monday] to hand top state honors to a number of Foreign Intelligence Service (SVR) employees, including the spies who were working in the United States and returned to Russia in July," the Interfax news agency quoted presidential spokeswoman Natalya Timakova as saying. It was not clear if all 10 former spies were at the ceremony.
They were arrested in June after living for years in cities across the United States. All 10 pleaded guilty in federal court to spying for a foreign country and were deported in exchange for Moscow's release of four people accused of spying for the West.
---