Peru wants more US aid for drug war; new ambassador hints 'no'
(Read article summary)
Peru, the world's second-largest cocaine producer, has asked for more US aid in combating drug trafficking and blamed Washington's policies for driving coca plant production in Peru.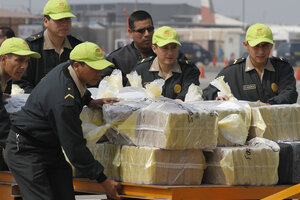 Martin Mejia/AP
Despite Peru's leaders repeatedly calling in recent months for more US aid in fighting drug trafficking, the new US ambassador said in her first media interview published Wednesday that resources are limited.
"The fight against narcotics trafficking is going to continue to be a high policy priority for the United States," Ambassador Rose M. Likins, who took office Sept. 30 and formerly served as ambassador to El Salvador, told the Lima-based publication Living In Peru.
"We'd all like to have an infinite amount of resources," she added, "but that's not the real world. And [Peru's leaders] recognize that. But we'll continue to do the very best job we can."
Peru, the world's second-largest cocaine producer, is arguing for more aid on the argument that drugs don't go away; they just go elsewhere. Crack down on drug trafficking in Mexico and it spreads to the Caribbean. Eradicate coca production in Colombia and the plant crops up in surrounding Andean nations such as Peru.
---