Pope's stance on condom use: U-turn or more of the same?
(Read article summary)
Pope Benedict XVI's comments on condom use are causing confusion and debate from Manila to Mexico City.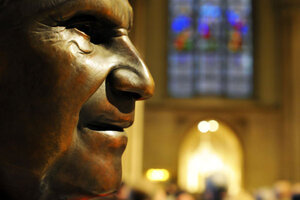 AP
Bold headlines around the world heralded what appeared this weekend to be a stunning about-face in the Roman Catholic Church's longstanding position against condom use.
"Pope approves use of condoms to fight AIDS," screamed the lead story on the front page of the Sunday Telegraph. The "historic U-turn" ended "decades of fierce opposition to the use of all contraception," explained the British daily.
Not so fast, said the Vatican's spokesman, the Rev. Federico Lombardi.
Pope Benedict XVI said nothing "revolutionary" and is not "reforming or changing" the church's stance on the issue, said Father Lombardi, adding in a statement Sunday that the church does not consider condoms to be the "moral solution" to the AIDS problem.
So what did the pope say?
The comments now causing confusion and debate from Manila to Mexico City came from the Vatican's publication of excerpts of a book about the pope due to be released this week.
In the book, which is based on the first face-to-face interview given by a pope, Pope Benedict said this:
---