WikiLeaks cable reveals how a Brazilian 'terrorist' got a US visa last year
(Read article summary)
WikiLeaks on Tuesday released a secret cable that reveals how a Brazilian 'terrorist' got a US visa last year. But the question remains: Did the move amount to a policy change by the Obama administration?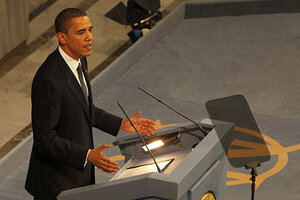 Thomas Peter/Reuters/File
A Brazilian who helped kidnap the US ambassador to his country in 1969 should never have received a tourist visa from the State Department last year, according to a US diplomatic cable posted yesterday by Wikileaks.
After the US consulate pasted the precious visa into former student radical Paulo de Tarso Venceslau's passport, but before it returned the passport to him, officials realized what had happened. A top diplomat wrote to Washington asking whether it would be best to let him slide "in light of the distance from the crime, the circumstances under which it took place, and our desire for a forward-looking relationship."
The US had long considered Mr. Venceslau a terrorist for holding former US Ambassador Charles Burke Elbrick hostage for four days in 1969 along with a group of radical students that included current Brazilian congressman Fernando Gabeira and Franklin Martins (a minister for President Luiz Inácio Lula da Silva). The group, known as Revolutionary Movement 8th October (MR-8), demanded the release of 15 political prisoners held by the Brazilian military dictatorship. It worked.
---