WikiLeaks army 'Anonymous' eyes Bank of America with 'Operation BOA Constrictor'
Anonymous, the loosely knit association of WikiLeaks supporters, is seeking to rally the online faithful to attack Bank of America with 'Operation BOA Constrictor.'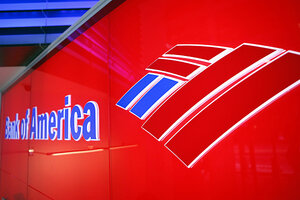 Lucas Jackson/Reuters/File
As "Anonymous" Internet users formulate plans to punish Bank of America for refusing to provide services to WikiLeaks, a new report from Harvard University warns that Anonymous-style cyberattacks are a potent and increasingly common weapon.
Bank of America on Dec. 17 joined several other financial institutions in refusing to process financial payments for WikiLeaks, which has come under fire since its Nov. 28 decision to begin publicizing some 250,000 secret US diplomatic cables. The bank said in a statement that the secret-spilling organization "may be engaged in activities that are, among other things, inconsistent with our internal policies for processing payments."
Almost immediately, online activists under the Anonymous banner began plotting "Operation BOA Constrictor" against the biggest US bank by assets. A source close to Anonymous confirmed to the Monitor that Operation BOA Constrictor is in the works.
At the Anonymous-frequented website "Truth Is Revolutionary," a message thread created Dec. 18 was titled "Proposal for new Ops: Operation BOA Constrictor."
"I would like to prepare, organize and coordinate with the upcoming WikiLeaks release of BOA material, a protest against the Bank of America. The protest could take any form," states the first message, posted under the name "Zarly." The same user later in the thread suggests protest methods such as "mass fax, flood email servers, mass sticker/poster campaign, sit-ins, phone-ins, various media blitz techniques, truth outs…"
---
Follow Stories Like This
Get the Monitor stories you care about delivered to your inbox.