Lance Armstrong doping? Sports Illustrated takes a fresh look.
(Read article summary)
An exhaustive Sports Illustrated investigation published today is the latest attempt to dig up dirt on Lance Armstrong. The online preview offers tidbits, but fails to provide the smoking gun many have long sought.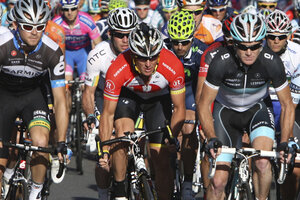 James Knowler/AP Photo
Lance Armstrong faced another exposé today by journalists determined to dig down to the bare truth about whether the cycling superstar used performance-enhancing drugs to fuel his amazing career.
This time it was Sports Illustrated who took on the champion. Among the highlights in a sneak-peek online before the hard copy hit stores today were:
Dr. Don Catlin, a pioneer of antidoping efforts and one of the most respected figures in the field, has three suspect test results on file that SI's sources say belong to Armstrong. They indicate abnormally high testosterone-epitestosterone ratios, the same test that brought down Floyd Landis after his 2006 Tour de France victory.
A former teammate saying under oath that he heard Armstrong say he used EPO, which boosts an athlete's endurance, and other drugs including steroids.
Armstrong often was able to circumvent stringent customs controls because he traveled by private jet. One time, customs officers searched his bag anyway and found some questionable stuff.
---