Pakistan earthquake hits Afghan Taliban haven
(Read article summary)
The massive Pakistan earthquake caused minimal damage, welcome news to a government trying to keep inquisitive reporters away from the Afghan Taliban stronghold of Balochistan.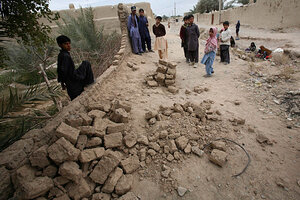 Rizwan Saeed/Reuters
Preliminary reports have found minimal damage from a 7.2 earthquake that struck Pakistan early today, alleviating several major concerns for a nation still recovering from last summer's massive flooding.
The earthquake was felt in neighboring India and as far away as Dubai in the United Arab Emirates, prompting initial fears that Pakistan had yet another calamity on its hands. In addition to dealing with fallout from the 2010 floods, the shaky Pakistani government and overstretched humanitarian groups are also tending to internal refugees displaced by fighting in the nation's tribal belt.
---