China, Russia stand by nuclear power despite Europe's backtracking
(Read article summary)
China, Russia and the US are still solidly behind nuclear power, but European officials are asking if they can meet their energy needs without fission.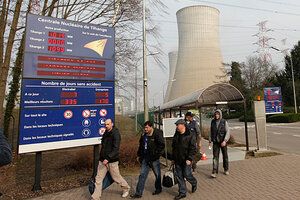 Yves Logghe/AP
Nuclear energy proponents, who had been making gains in support for nuclear power prior to Japan's crisis, likely have a tough road ahead of them now.
Workers at the Fukashima nuclear power plant are still struggling to cool down some of the overheating reactors in order to prevent a meltdown.
While US Energy Secretary Steven Chu said Tuesday that the US will stand by its support for nuclear power as a viable renewable energy source and will continue its development, Germany shuttered seven of its oldest nuclear power plants and the European Union announced plans to test all 143 plants in its 27 countries, The New York Times reported. China said it has suspended approval for all new plants until safety rules can be examined.
Germany was the first European country to actually close plants. That Germany was the first to take such a step is not surprising – most Germans opposed nuclear power even before Japan's troubles began, The Christian Science Monitor reported. Chancellor Angela Merkel angered many Germans last fall when she announced that the government was planning to overturn the previous government's plan to end nuclear power by 2022.
---