Will we see Yu Darvish in Texas? (VIDEO)
(Read article summary)
The Texas Rangers made a record-setting bid for Japanese star pitcher Yu Darvish, letting the baseball club negotiate a contract with him. But if he does sign, will he hit the 'Third-Year Wall'?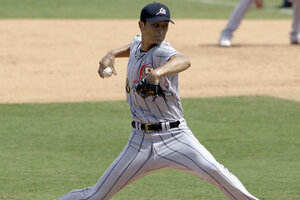 Elaine Thompson/AP/File
It's decided: If we see Japanese hurler Yu Darvish in the majors, we'll see Yu in Texas.
Major League Baseball announced last night that The Texas Rangers put up the highest bid for pitcher Yu Darvish of Japan's Pacific League, clearing the way for the Rangers to negotiate a contract with Darvish and bring him to the States.
The Rangers reportedly set a new record with their posting bid of $51.7 million, which the team will pay to Darvish's Japanese club, the Hokkaido Nippon Ham Fighters. If the reported figure is accurate, the bid for Darvish would exceed the previous record, set by the Boston Red Sox in 2006 when they paid $51.1 million to the Seibu Lions for Daisuke Matsuzaka.
Daigo Fujiwara of JapaneseBallPlayers.com noted this weekend that Darvish is one of 21 Japanese players who have used the posting system, which was set up in 1998. The posting system merely establishes the right for a US club to negotiate with a player – contract negotiations may still fall through, and have in the past, leaving the player with their Japanese team. Of the 21 players to have used the system – including several players like Darvish who are negotiating contracts now – only 11 have so far successfully transferred to MLB.
---