Nigeria's double trouble: nationwide fuel strike and 'ban' on Christians
(Read article summary)
Attacks by Islamist group Boko Haram are 'worse than civil war' of 1960s, Nigerian President Goodluck Jonathan says, but a nationwide fuel strike sparked by a cut in subsidies presents him with his toughest challenge.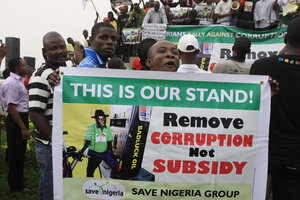 Sunday Alamba/AP
With terrorist attacks against Christians in the north by an apparent Islamist militant group and the beginning of a nationwide protest against soaring fuel prices, Nigeria's President Goodluck Jonathan is faced with a double challenge.
President Jonathan declared a state of emergency last week after the Islamist militant group Boko Haram killed some 29 people in the northern state of Adamawa (click for map). More than 500 people have been killed by Boko Haram – whose name means "Western education is a sin" – in the past year. But equally dangerous is the possibility of nationwide strikes called by labor unions and a nebulous "Occupy Nigeria" movement after Jonathan's Jan. 1 decision to remove a government fuel subsidy paid to fuel importers.
Most of Nigeria's 150 million citizens survive on less than $2 a day, and the removal of the subsidy will have the effect of instantly raising the cost of a liter of gasoline from 41 cents to 89 cents. Nigeria is Africa's largest oil-producing nation, but because its refineries have not been well maintained, Nigeria imports more than 75 percent of its fuel from outside the country.
In a televised speech, quoted by Nigeria's Vanguard newspaper, Jonathan said he understood the anger of citizens over the cut in the fuel subsidy, but said the step was necessary, since the subsidy absorbs nearly 25 percent of the country's yearly budget.
"If I were not here to lead the process of national renewal, if I were in your shoes at this moment, I probably would have reacted in the same manner as some of our compatriots, or hold the same critical views about government…. My fellow Nigerians, the truth is … either we deregulate and survive economically, or we continue with a subsidy regime that will continue to undermine our economy and potential for growth, and face serious consequences," Jonathan said.
---