Religious slights are the buzz as India marks Republic Day
(Read article summary)
Followers of India's three main religions - Islam, Hinduism, and Sikhism - have balked loudly at cultural slights this week. There's a reason for it, and it's not all politics.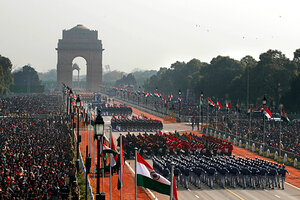 Kevin Frayer/AP
No one likes to have their religion slighted. This is especially true in India, where there are thousands of gods, and tensions are close to the surface when it comes to ill-considered comments about religion.
Last week, author Salman Rushdie canceled his much anticipated visit to India's biggest literary festival because of reported threats of assassination. Many Muslims regard his 1988 novel, "Satanic Verses," to be blasphemous, and some Muslim clerics threatened massive protests if Mr. Rushdie showed up at the festival in Jaipur. A handful of authors attempted to read the book – which is banned in India – on Rushdie's behalf in a form of protest, but organizers stopped them.
Just the day before, American late night talk show host Jay Leno managed to offend India's Sikh community with a satirical sketch, involving the Sikh faith's holiest shrine, the Golden Temple. In a video showing the homes of the GOP presidential candidates, Leno showed a photo of the Golden Temple, calling it "Mitt Romney's summer home on Lake Winnipesaukee."
But that wasn't all.
---