Olympics 2012: Among the top gold winners in London ... Kazakhstan?
(Read article summary)
One of the world's least populated countries at around 15 million, Kazakhstan is No. 8 in gold medals at the London Olympic Games.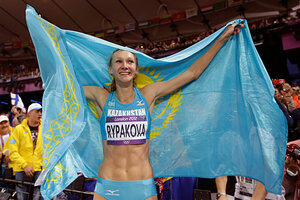 David J. Phillip/AP
If you've been checking out the gold medal count recently, chances are you've noticed the sky blue flag with the yellow sun and bird hovering at the No. 8 slot. That would belong to Kazakhstan, the ninth largest country in the world, and one of the least populated countries at around 15 million people. This year has been its best-ever Olympic Games.
With six gold medals and a bronze under its belt and five days left in the 2012 Olympics, Kazakhstan is placed eighth, ahead of Germany and Australia for gold medals. In terms of gold medals per capita, Kazakhstan ranks fifth worldwide. Not bad for a country that only began to compete in the Olympics in 1994, two years after it became independent.
No doubt decades of Soviet rule influenced not only architecture, education, and government in Kazakhstan, but also its effective approach to sports training.
So what, exactly, is Kazakhstan medaling in?
The horsemeat advantage
Ilya Ilin took the gold and broke a new world record for the men's 94 kilogram weightlifting class when he hefted 418 kilograms, 12 kilos more than he lifted in Beijing when he won gold for total lifted. The 24-year-old two-time Olympic champion attributes his success to kazy – horsemeat sausage.
Svetlana Podobedova, who left her home country, Russia, after she was cut from the national weightlifting team for doping in 2007, narrowly beat Russia's weightlifter in the 75 kilogram class.
---